Posted by Faxon Firearms Staff on May 4th 2020

We have a crop of fresh products to feature in this week's Product Spotlight Blog!
---
14.5" Match Series .223 Wylde Pencil Barrels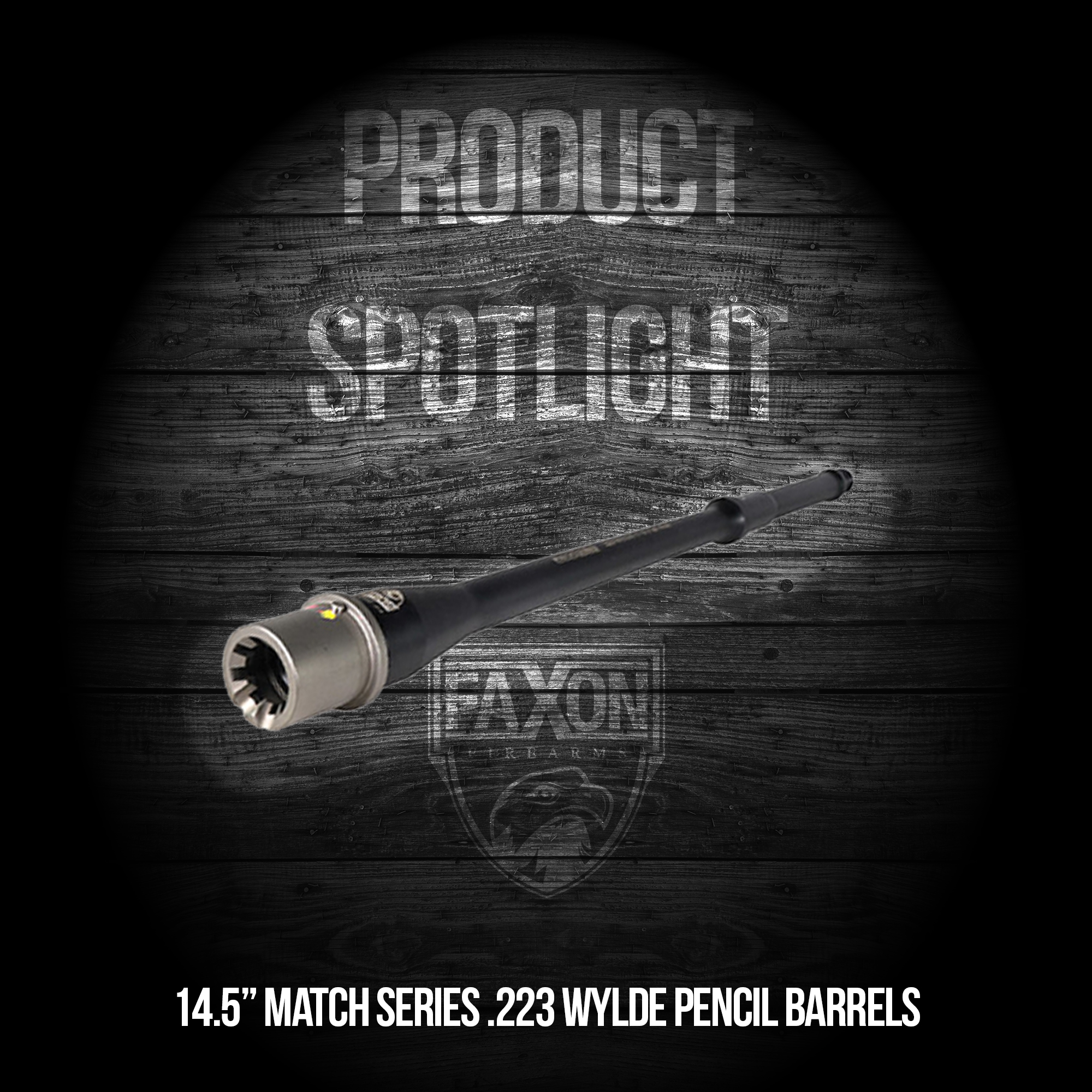 From our friends at Pew Pew Tactical:
.223 Wylde: Best of Both Worlds
It really shouldn't have taken as long as it did for somebody to look at the .223 chamber, look at the 5.56×45 chamber and go "Hey, you know what? I can make one version that's better than both of them."
Bill Wylde looked at the two chamberings and came up with a Goldilocks design that truly is the perfect middle-ground. He designed a chamber with the leade angle and external dimensions of the 5.56, but the leade diameter of the .223.
This gives you a chamber where the gas expansion is tight and controlled because of the smaller leade diameter of the .223, but also one you can fire 5.56 through because of the 5.56-style leade angle and length. Click here for their full article.
---
18" Match Series 6.5 Creedmoor Gunner Barrels
When it comes to this size and caliber, we employ our Big Gunner profile.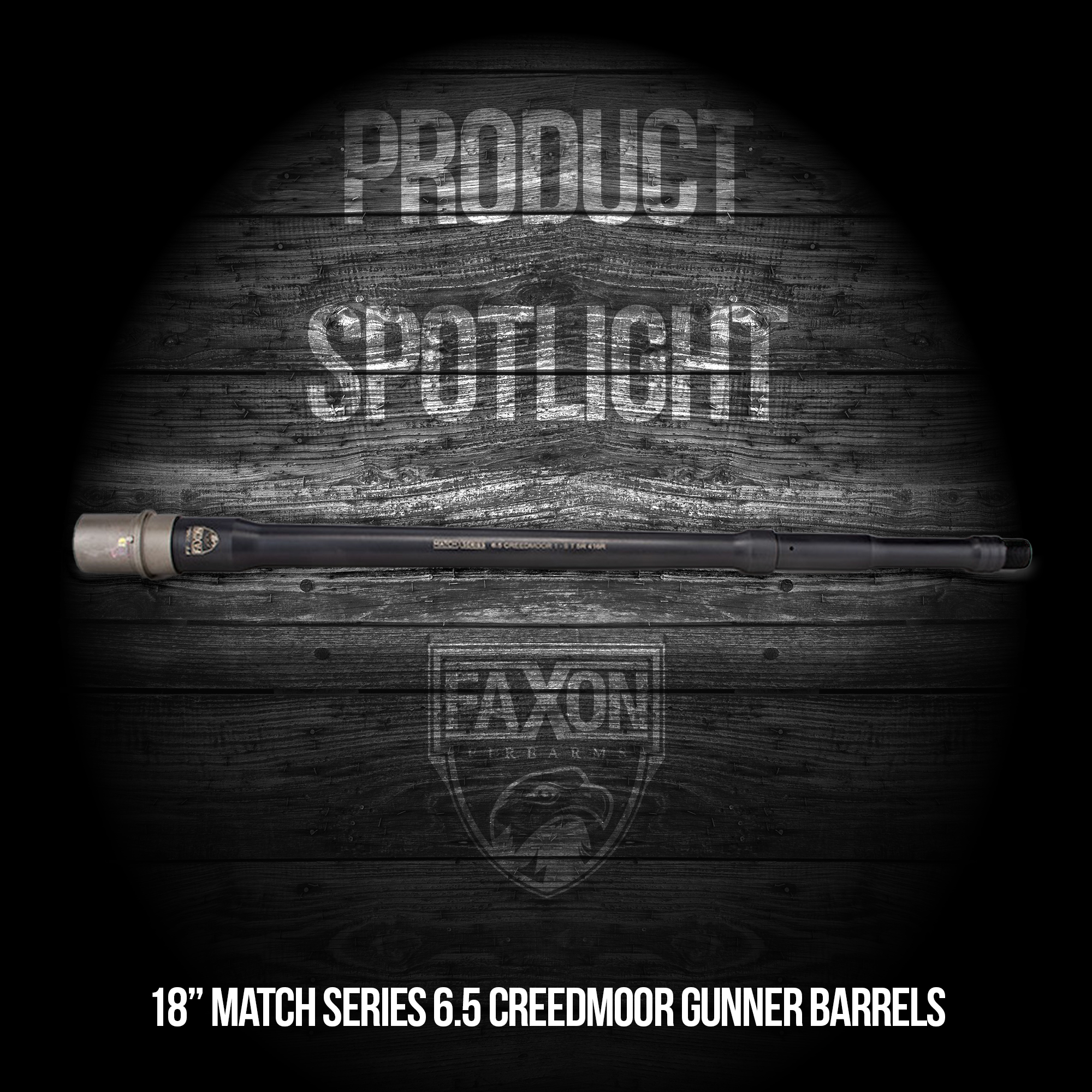 The 6.5 Big Gunner profile barrels are the big-brother to our famous 5.56 Gunner barrels. The Big Gunners feature a medium-taper behind the gas block. The gas block journal is set to .750" for compatibility with most common gas blocks and 1.9" in length for long blocks or aftermarket piston kits. From the gas block journal forward we use a thinner taper, designed to reduce weight yet maintain rigidity for high rates of fire and as a suppressor host.
---
308/6.5 Creedmoor AR10 Bolts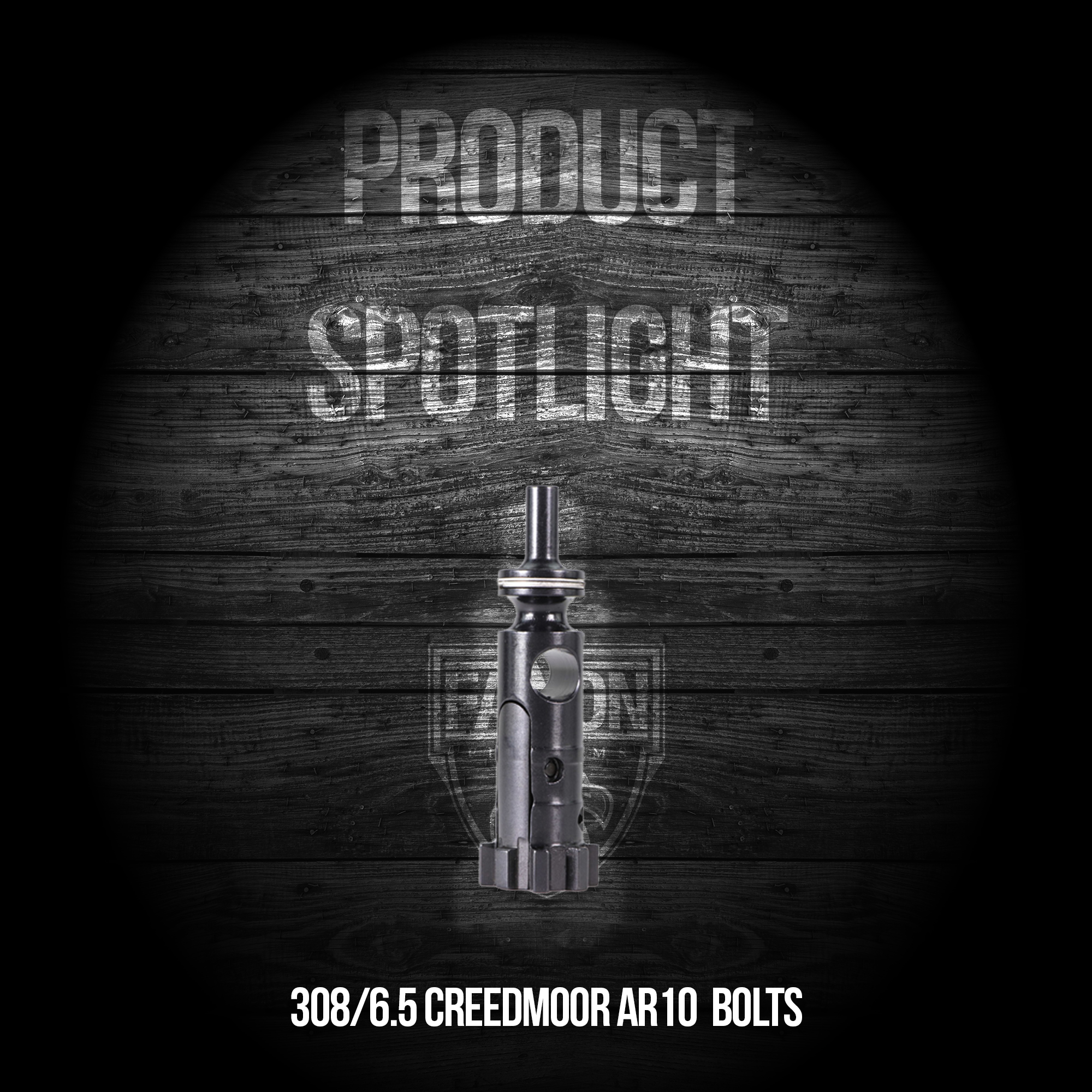 Seeing "MIL-SPEC" as just the starting point, we set out to ensure the best options are available for our demanding customers.
Improvements include using 9310 tool steel for the bolt, nitriding the assembly to increase surface hardness, decrease resistance, and have superior corrosion resistance compared to typical chrome and phosphated bolt carrier groups. All bolts are fully MPI tested to ensure the material is sound and without defects. Bolt lugs are chamfered 45 degrees to ensure reliable action for even the highest pressure hand loads and fast lightweight actions. Extractors are S7 Tool Steel. From there, the extractor is sprung using the spring, o-ring, and silicone insert.
---
18" Match Series 6.5 Creedmoor Heavy Fluted Barrels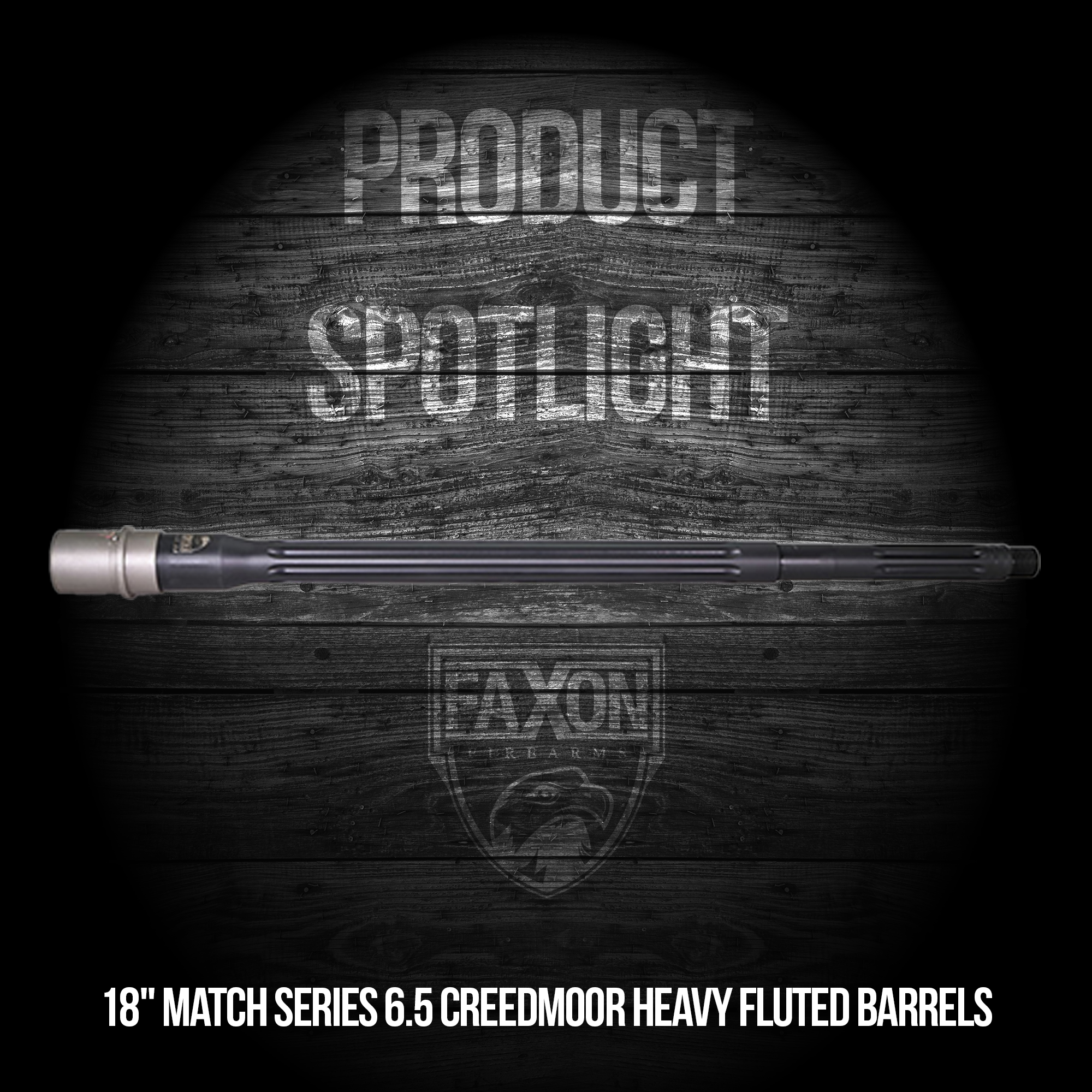 The Heavy Fluting on our 6.5 Creedmoor barrels allows for increased rigidity, and enhanced heat dissipation.
Manufactured 100% in-house from gun-barrel-quality bar-stock, the Match Series starts with 416-R in 5R rifling. 5R is a hybrid rifling, with lands opposite grooves and reduced sharp angles that reduces jacket deformation increasing velocity and easy cleaning. After rigorous testing, the barrels are Nitride treated inside and out, locking in the bore, improving barrel life, and keeping the elements at bay.
The extension is coated in a Nickel Teflon coating that maintains incredible dry lubricity, corrosion resistance, and with the coating, tightens up fit between the extension and receiver - again improving upon accuracy. Combined, the Match Series of barrels are ready for when duty calls or the buzzer beeps with unrivaled performance value.
---
20" 308 Win AR10 Pencil Barrels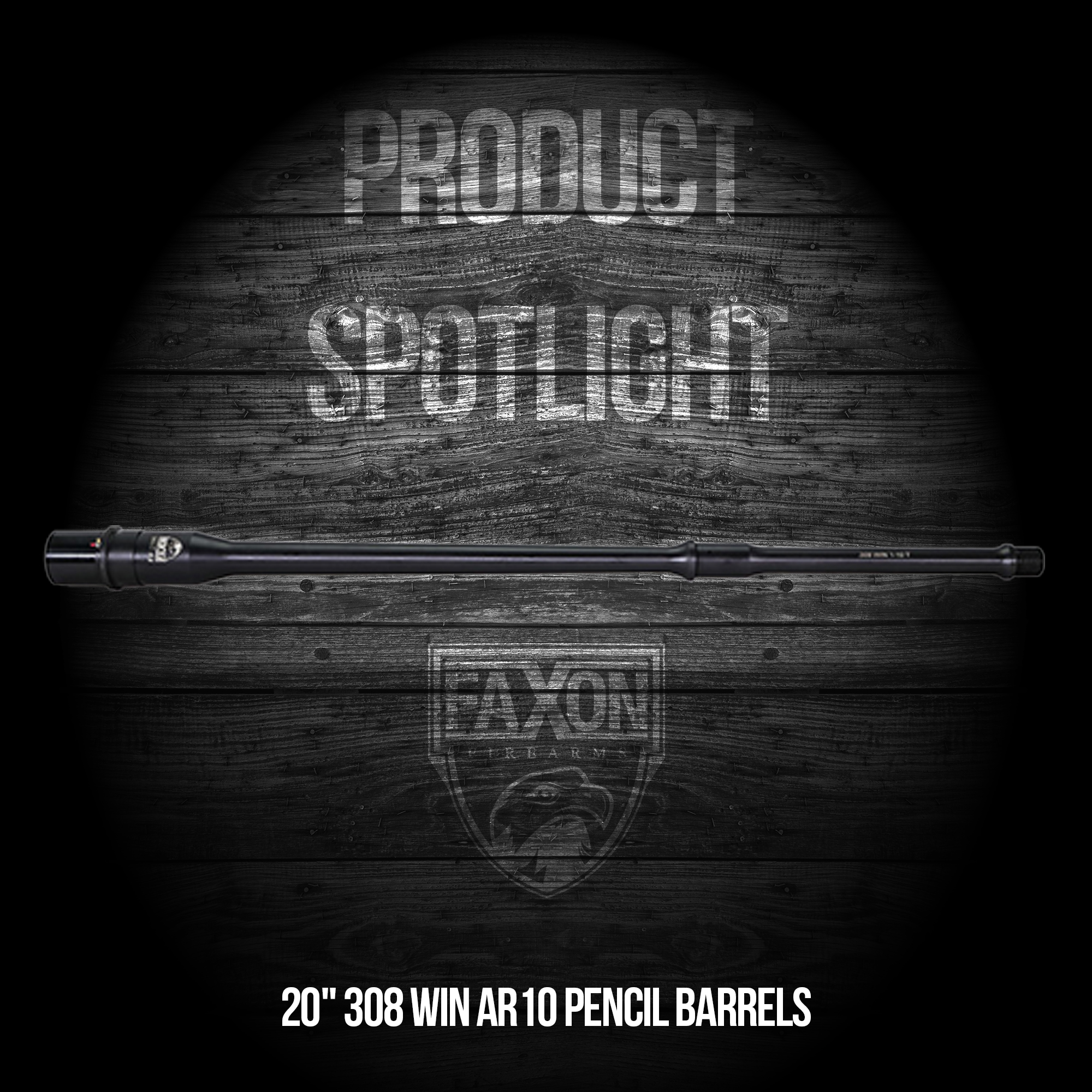 Faxon's pencil barrels are renowned for their lightweight performance. Fully stress relieved, we carefully designed the barrel's taper to remove weight while maintaining performance. The result is the lightest barrel in the industry - and one we are fully confident to put our Faxon shield on.
Faxon's .308 barrels feature 1/10 twist rifling for full stabilization across all common .308 loadings. Our barrels are chambered to .308 Winchester SAAMI specification for maximum versatility. All our barrels are manufactured 100% in-house from cradle-to-grave, these barrels are fully stress relieved, air-gauge tested, and 11 degree target crowned to ensure superior accuracy.