Posted by Faxon Firearms Staff on Apr 3rd 2020
This Week on The Show!
Pat Murphy (Director of Sales) joins Dustin to talk about his history at Faxon, exciting business growth, and the launch of our new Pinned Gas Block Barrels!
Shop Now: https://bit.ly/2xJpgFi
---
Pinned Gas Block Barrels PRESS RELEASE:
(CINCINNATI, OH) - Faxon Firearms, a Cincinnati, Ohio based manufacturer of quality firearms and components, is excited to announce their new line of Pinned Gas Block Barrels.
Pinning your gas block, in addition to the use of set screws, is widely regarded as one of the best ways to keep your gas block from shifting or loosening when fired. A common hiccup for end-users is finding a quality gunsmith to drill and/or notch the gas block and barrel properly without damaging the barrel or voiding a manufacturer's warranty.
Faxon's Pinned Gas Block Barrels come pre-notched for the cross pin. The notching is done during the manufacturing of the barrel, and undergoes Quality Control checks both before and after the notching takes place.
Faxon has chosen to begin the line with their most popular caliber and barrel profile combinations.
14.5" 5.56 Gunner Profile
10.5" 5.56 Pencil Profile
16" 5.56 Gov't/Socom Profile
10.5" 300 BLK Gunner Profile
10.5" 5.56 Gov't/Socom
16" 5.56 Pencil Profile
16" 5.56 Gunner Profile
Pricing ranges from $179 to $209.
Each barrel ships with:
Pre-notched Barrel
Low Profile Gas Block
Cross Pin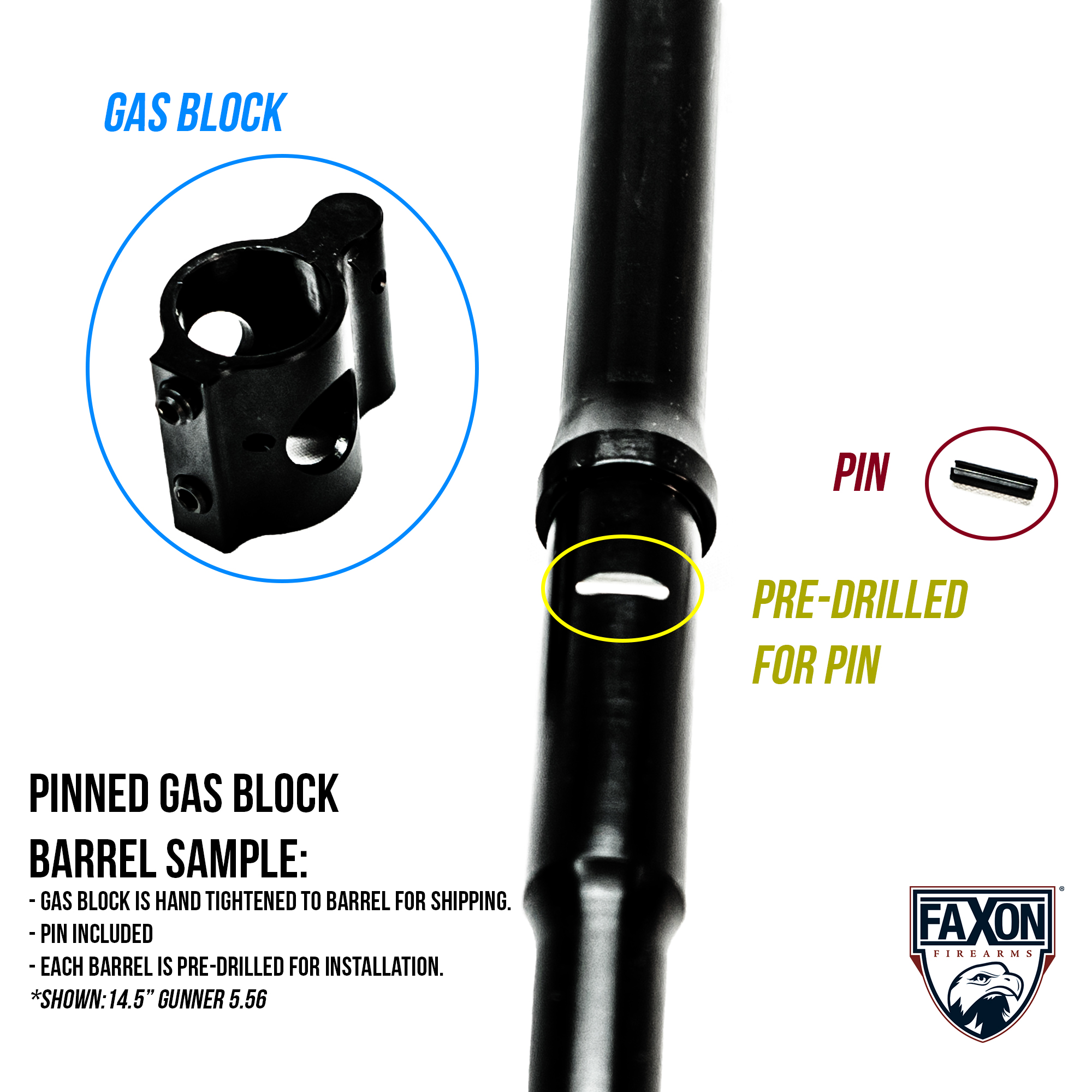 ---