Posted by Faxon Firearms Staff on Apr 8th 2022
Glock 43 vs. 19: Which Should You Choose?
Glock as a company has been around since 1963 but produced its first gun in 1981. Before the 1980s, Glock produced a mixture of products for civilians and the Austrian army. Today, Glock is a world leader in handgun manufacturing thanks to its precision manufacturing and intense adherence to quality.
Part of the success of Glock is due to a change in handgun options and the desire of law enforcement officers to better combat the rise of the American drug trade. The Glock provided a lighter, more accurate semi-automatic handgun. That powerful reputation is particularly due to two popular models, the G43 and G19.
The G19 came first in 1988 as the first real improvement to the guns that Glock manufactured beginning in 1981. It is one of the world's first 9mm concealed carry firearms and was immediately on the want list for special operations personnel in the US Armed Forces. The G43 was released in 2015 following a round of improvements from real concealed carry pros.
At the time the G19 was released, it was one of a few 9mm guns that was small enough to concealed carry. That alone drove the G19 to massive fame. The truth, however, is that even as a micro-9mm, the G19 is bulky and that can be uncomfortable in a concealed carry position. The G43 is slightly smaller and loses some mass due to a single stack magazine. The G19 offers a double-stack magazine, which adds to its size, especially when concealed inside a waistband.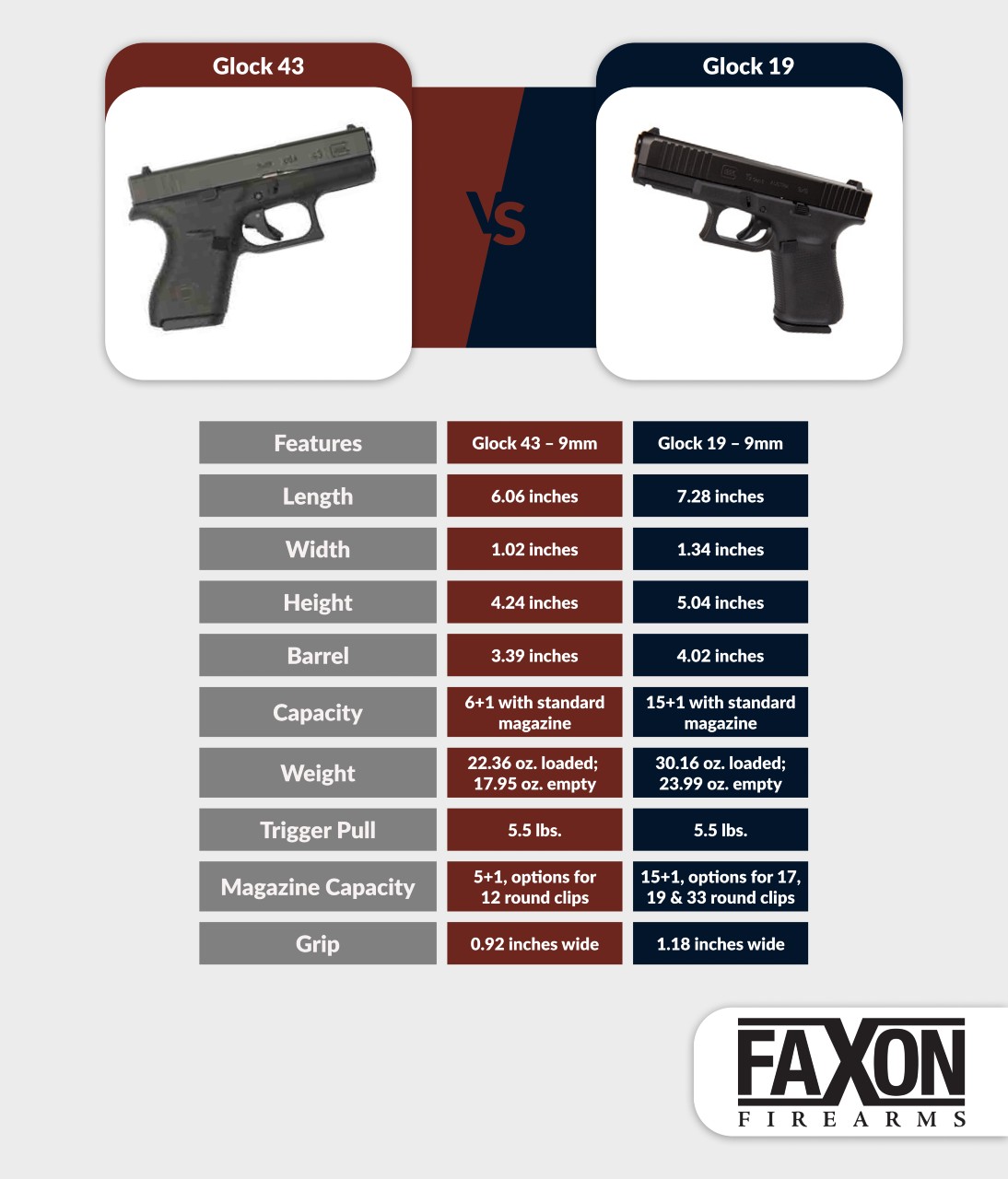 Size is Important
Today, many people who concealed carry want the G43 simply because it is more comfortable due to its slightly smaller stature. Below, we go over some differences in the size between the G19 and G43.
Glock 43 Size 9mm
Length - 6.06 inches long
Width - 1.02 inches wide
Height - 4.24 inches tall
Barrel - 3.39 inches long
Capacity - 6+1 with a standard magazine
Weight - Loaded - 22.36 ounces - 17.95 ounces empty
Glock 19 Size 9mm - Gen 5 model
Length - 7.28 inches long
Width - 1.34 inches wide
Height - 5.04 inches tall
Barrel - 4.02 inches long
Capacity - 15+1 with a standard magazine - some areas regulated to 10 bullet magazines.
Weight - Loaded - 30.16 ounces - 23.99 ounces empty
Weight
Part of this comparison includes the weight of the G43 vs. the G19. Consideration also included loaded weight since the G19 holds 15+1 bullets while the G43 holds 6+1 bullets in its magazine.
Glock 43 Weight - Loaded - 22.36 ounces - 17.95 ounces empty
Glock 19 Weight -Loaded - 30.16 ounces - 23.99 ounces empty
Performance
Performance is a key factor, but so many outside considerations influence performance, which makes it hard to measure. One key stat that affects the performance of both the G19 and the G43 is the grip size vs. the size of your hands. Larger hands will fit nicely around the G19 which is slightly more robust than the G43. Smaller hands may find the G43 to be easier to grip, aim and shoot. That fact has to do with the length of the Glock from the cradle of the thumb to the arc of the trigger finger. Another key component of performance is the type of trigger on the Glock. There are slight variations from the original models through Gen 4 and Gen 5 that make it easier to shoot - requiring less finger strength to pull the trigger - and that will most definitely affect performance and accuracy.
Glock 19 Stats:
Trigger Pull - 5.5 pounds - some variation between generations with key points being a heavy or stiff wall in early G19 and improvements in the Gen 5 with a more user-friendly rolling break.
Fixed Sites - polymer, steel, plastic options, and nighttime sites as an aftermarket add-on.
G43 Stats
Trigger Pull - 5.5 pounds
Fixed Sites - White Dot + night sights (AmeriGlo) as factory standard features. Aftermarket sights are available including red dot sights.
Magazine Capacity
G43 - 5+1 with options for 12 round clips
G19 - Standard at 15+1 with options for 17, 19, and 33 round clips.
Grip
G19 - 1.18 inches wide
G43 - 0.92 inches wide
Height from the top of the slide to the bottom of the magazine
G19 - 4.89 inches
G43 - 4.10 inches
The grip is important as it determines how well you control recoil when shooting, and that is a factor in the accuracy of the gun. The G43 has a smaller grip both in circumference and height in comparison to the G19.
What that means is that larger hands will have problems holding the G43 as you will lose the stabilizing force of your pinky finger. Smaller hands will have trouble finding a comfortable perch on the G19 and the ability to securely hold it and reach the trigger, especially if your fingers are shorter.
The best solution to dealing with the differences in grip is to actually hold the different guns. The first consideration should be comfort because when you can comfortably hold a handgun, you solve many other performance problems.
Trigger
Glock triggers are very similar, but not the same. You get a standard experience that includes a light pressure take-up followed by resistance and then a short reset following discharge. What changes are the differences between generations - original, G3, G4, G5.
For the G43, the smoothest trigger is the generation 5 option, which offers a rolling break rather than the stiff wall and sharp break of older models.
Upgrade Your Glock with Faxon Firearms
Faxon Firearms offers exceptional quality aftermarket add-ons for both G43 and G19 Glocks.
Faxon barrels for Glock include options for a threaded and non-threaded, fluted, and regular stock for many types of Glock handguns including the G19 and G43.
Faxon slides for Glock include options for the Hellfire Slide with Multi or RMR Optic cut or the Patriot Slide with Multi or RMR Optic cut.
Faxon Firearms offers a long list of parts and accessories for Glock handguns. As a precision firearm factory modeled after the exacting standards of Glock, you get:
Made 100% in-house - Every part or add-on accessory for your Glock 19 or G43 is made in our Cincinnati-based shop and designed to the OEM standards of Glock.
Quality Lab in-house to check quality - Nothing leaves the factory that is not approved by the lofty standards of the Faxon Firearms lab. Every component, replacement part, or add-on is meticulously tested, measured, and held to determine fit, safety, and quality that you can trust for decades.
Magnetic particle engaging - tests stress relief by looking at surface and subsurface structural integrity as a test to find weaknesses in the metals. The process ensures that metallic pieces are strong, safe, and will offer years of quality use and longevity.
Better Coating - Trust the finishes offered by Faxon Firearms - our coating system delivers colors that do not falter. The result is a unique product that fits your G19 and G43 or any other model of Glock to a tee with superb looks and finishes.
One of the best ways to get to know Faxon Firearms is through our extensive customer testimonials that point to exceptional accuracy and quality for each of the products we produce. Faxon Firearms offers a long list of parts, barrels, and add-on accessories for Glock and other gun manufacturers.
Faxon Firearms is a USA-based company that is family-owned and operated. As a family-owned and operated business, we can keep our fingers on the pulse of handgun design and part manufacturing in a way that allows us to solve problems and make improvements on some of the most common handguns in the market.
Patents and intellectual property documents on many products - The exacting and detailed designs offered by Faxon Firearms have led to many advancements in handgun and rifle designs. Each option makes improvements that answer questions gun owners have about their gun and provides options to those who need handgun replacement parts on par with OEM, quality upgrades, and add-on customization products for
Which is the Best Option for You - G19 vs. G43?
Glock 43 or the Glock 19 offer superb shooting, quality, and ease of carry. Both have good accuracy in the 25-meter range and are fair to the 50-meter range. The G43 is the newer model with a more comfortable design at the expense of fewer rounds. The G19 gives you more rounds in the magazine, but that feature adds bulk which may be uncomfortable in a conceal carry waistband situation.
Both have been around long enough to offer a wealth of add-on and upgrade options including rear sight, larger magazine rounds capacity, options for barrel length, grip length, custom barrels, and sights.
Which is the best gun for you? It comes down to personal preference and ability. The differences are such that comfort and ease of the gun in your hand play a major role in accuracy and training.